Students Show Safety Smarts in Fire Safety Poster Contest
Students at Forest View, Robert Frost, and John Jay Elementary Schools participated in the 2017 Mount Prospect Fire Department Fire Safety Poster Contest. There were 1,246 posters submitted by eight elementary schools in Mt. Prospect.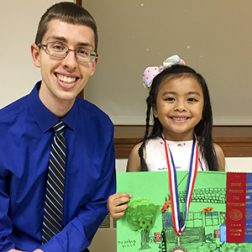 Students were judged on their depiction of the theme "Every Second Counts – Plan Two Ways Out." Six students from the CCSD59 schools received their city-wide winner awards from Mayor Arlene Juracek on Tuesday, November 7.
The winners were:
 – From Robert Frost: Rudra Patel (first grade), Liya Joseph (second grade) and Diya Patel (fourth grade)
 – From John Jay: Audrey Enabe (first grade)
 – From Forest View: Zaniya Massenat (second grade) and Vanessa Dimitorv (third grade)
Students from Forest View and Robert Frost tied with two other Mt. Prospect Schools for 100% participation and received trophies for their participation.
The poster contest gave the students an opportunity to use their art skills, express their thanks to first responders, and review some very important safety information. The poster contest also may help students feel like a part of the bigger community, both in CCSD59 and in Mt. Prospect.
The students often walk away thinking about safety even after the poster contest is over. "After our first fire drill, several students told me they thought about other ways they could get out of the building," said Matt Doran, who teaches Fine Arts at John Jay.
Moira Burdi, Fine Arts teacher at Forest View, said the value of the fire safety lesson is particularly meaningful to her. "Having had a fire in my home as a child, this is something I feel is important for the students to think about. Students need to think about fire safety at home as well as at school."