CCSD59 Communities Show Strength in Generosity During Pandemic
The COVID-19 pandemic has presented challenges for millions of people across the country and altered lifestyles around the world. As students and families in CCSD59 communities are being exposed to many of these same difficulties, friends and caregivers are emerging in an unprecedented way. 
The holiday season is one of the busiest times on the calendar for community outreach and donation drives throughout the district, and those efforts have become more vital as families, students, and staff navigate the end of this year.
"We are fortunate to work with such caring people," said Melissa Tejeda, a Community Outreach Specialist in CCSD59. "Since the start of the pandemic, we've had an outpouring of support from the community. Plain and simple, members just want to help and that is even more prevalent during this uncertain time."
Tejeda and her team members are responsible for connecting students and families to proper resources and supports, whether they be educational, social emotional, or opportunities to find necessary supplies for everyday life. During a standard school year, they consistently interact with students at buildings to pinpoint their personal needs. As their responsibilities have shifted during the year, they have kept up with an overwhelming influx of donations from community partners. 
Over the Thanksgiving holiday, CCSD59 families received meals from Northwest Compass, the City of Des Plaines, and the Lutheran Church of the Cross – Arlington Heights, among others. Several food donation programs have been active throughout the year, while some have been adapted based on need. Lutheran Church of the Cross, for example, traditionally sends students home with packs of food on a weekly basis. Now, volunteers deliver the food to homes of families that cannot make it safely to the pantry.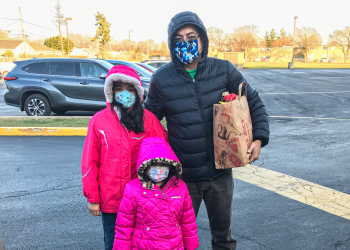 Admiral Byrd Elementary also received extra food when the Prince of Peace United Methodist Church had to halt its weekend backpack program due to the pandemic. With so much additional food available and one less distribution method, the church immediately sent it to the school. 
"When this pandemic hit, we were starting to hear about pantries not being able to stay stocked and funds being depleted for general assistance,"  said Marlyn Orozco, a family facilitator at the Early Learning Center. "It is truly amazing how this community was able to come together!"
Traditional staples of support in CCSD59 have been in action as well. The Community Cares Closet, which offers clothing, toiletries, and other essentials, has been continuously stocked with the help of community partners. The D59 Education Foundation has also focused its effort on the Empowerment Fund, which provides other necessities for families. This has driven donations from across the district, including from retired CCS59 staff members. 
While providing clothing has been a focus, so has lending a hand with personal protective equipment. Several individuals with district ties donated masks to students and staff during the fall. Rachel Kandefer, a former Grove Junior High and Rupley Elementary student, used a school project as a chance to also create masks for current Rupley students. 
"It is remarkable to see our community agencies come together, especially during a time like this," said Marlon Senior, another Community Outreach Specialist. "The amount of donations we've received has definitely exceeded my expectations. Many different businesses have been affected by this pandemic, but what I have noticed is that it has seemed to bring our community closer together. For that reason, we were still fortunate enough to be able to support our families."
While these are just a few examples of a collective effort, they are a snapshot of the profound generosity shown in our communities. These acts may not completely relieve stresses and hardships, but the sum of their parts is invaluable. As COVID-19 continues to be present, these efforts will continue to play a vital role in the well-being of students, families, and community members. All who have volunteered or donated in any form have impacted these lives in an important way, and there is no shortage of gratitude. 
"We have spoken with parents that have cried because they were so happy with what they have been able to receive and the difference it has made to them," said Senior. "That is the reality of this pandemic. This has always been a total team effort and, when we all come together, we can do amazing things and affect so many families."
---
A list of community partners that have helped or donated to CCSD59 families can be found below:
Prince of Peace United Methodist Church
Our Saviour's Lutheran Church
Cari Ann Petersen
Trinity United Methodist Church
Lutheran Church of the Cross
St. Raymond Church
Christus Victor Lutheran Church
MOPS Program at Christus Victor Lutheran Church
The Kid's Pantry
PTO Members
Marilyn Koss
Rachel Kandefer
Elk Grove Rotary Club
Sue Affleck
Yeulanda Brown-Degala
Private Donors
Elk Grove Village Fire Department
Jewel-Osco
Northwest Compass
D59 Education Foundation
Mt. Prospect Community Connections Center
Salvation Army
City of Des Plaines
Mount Prospect Neighbors 
Willow Creek Community Church