CCSD59 Students, Staff Relish in Giving Back During the Holidays
"If I could say one thing to the people I helped, it would be: it was a great thing helping you." –Allison, fifth grade student at Juliette Low
Throughout our schools, the season is truly upon us – and so is the time to help those who are less fortunate than ourselves. Students and their families, staff, PTOs, and community members have teamed up with partners to make this season a little brighter for everyone.
Together, students and staff across the district donated hundreds of pounds of food to help stock local pantries. These centers rely heavily on those donations to help feed hungry families in the community. Some students, staff, and PTOs also created and packed meals to sustain needy families at their own schools. They also volunteered their time and donated money to Feed My Starving Children to help pack meals to send all over the world.
"It was fun to help with making batches of food at Feed My Starving Children," said Yvette, a fifth-grade student at Devonshire. "Since it was fun, it makes me want to do more."
Maya, a fifth-grade student at John Jay, said packing canned goods for the community was her favorite service activity this season.
"What I liked about packing canned goods was thinking about the smiles on the people's faces when they will have food for the holidays," she said.
Many of our schools also worked with local partners to help people stay properly clothed through the cold winter season. They gathered winter coats, boots, mittens, scarves, snow pants, and other winter gear. Some schools had pajama drives, while students created homemade blankets that were donated to the likes of Chicago homeless shelters to Phil's Friends, a support group for those undergoing cancer treatments.
"It ma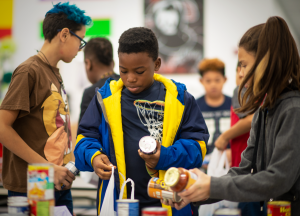 de me feel encouraged, filling other people's buckets," said Lindsay, a fifth-grader at Devonshire. "I also now know how to make blankets so I can keep making them."
Students, families, staff, and community also banded together in donating money and supplies to help those battling serious illnesses. These include a CCSD59 student in hospice, cancer patients, people undergoing kidney dialysis, and those living in senior assisted care facilities.
The CCSD59 community also contributed thousands of dollars worth of toys, gifts, and gift cards to help provide presents for families at their own schools and in the community. Many schools hold their own version of Holiday Shoppes or Snowflake Stores, where CCSD59 families can come and select presents to give to their children at no charge. Schools and the district office had Toys for Tots collection bins to provide toys for children across the country. Field trips to local stores were arranged by some schools, where students were given a budget and asked to select presents for the children on their list. Some lucky students were able to do this holiday shopping with local partners such as police and fire departments.
Many students across the district said they enjoyed this even more than receiving presents themselves.
"My favorite part about this time of year was helping to buy presents for others," said Aileen, a third-grade student at Rupley.
Students also received the opportunity to purchase very low-cost gifts for family members at their own schools thanks to staff and PTOs.
The sounds of the holiday and the winter season could also be heard throughout the district. Special performances and holiday sing-alongs allowed students to perform for their families and show off their musical skills. Some schools even took their holiday show on the road and performed for those who are not easily able to travel.
Seasonal artwork, such as specially decorated homeroom doors or holiday displays were also abounded and added plenty of fun to our facilities. Special book swaps and book donation programs were also common to boost the holiday mood.
It would be impossible to list all the activities the CCSD59 students and families, staff, and community participated in this season and beyond, not to mention all the people who benefitted from their many acts of kindness. One thing is a definite – the enthusiasm for this time of year and the joy of giving are alive and well at CCSD59.
Janell, a Juliette Low fourth-grade student, summed it up: "If I could say one thing to the people I helped, it would be I loved how we did something together to make something remarkable."